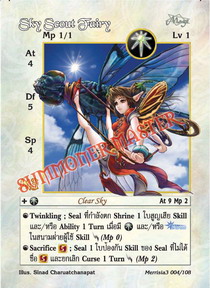 Seal Information
Name
Sky Scout Fairy
Type
Element
Lv
1
Mp
1/1
At
4
Df
5
Sp
4
Rarity
Rare
1st Combination
+ "Clear Sky" At 9 Mp 2
Skill
: Twinkling: 1 Seal that is falling to the Shrine loses Skill and/or Ability 1 Turn when you have and/or on your Arena. (Mp 0)

: Sacrifice : 1 Seal protect from Skill that doesn't come from and cancel Curse 1 Turn. (Mp 2)

Ability
No
Illus.
Sinad Charuatchanapat
Verno
4
Release
Merrisia 3rd
Ad blocker interference detected!
Wikia is a free-to-use site that makes money from advertising. We have a modified experience for viewers using ad blockers

Wikia is not accessible if you've made further modifications. Remove the custom ad blocker rule(s) and the page will load as expected.